Bearded characters & magical creatures
Mulga
is a Sydney based artist, Joel Moore, a man with a unique style and inspiration. He creates unforgettable artworks of the things he loves to draw; bearded characters, gorillas, lions and magical creatures with laser beam eyes. Originally Mulga worked in economics and finance, until he realised that making art was much more fun.
Working from his dining room table and taking inspiration from wild and wacky characters,
Mulga
plays with combining textured shapes, with solid hues, bold colours, and of course his signature intricate line work. He paints almost exclusively with POSCA markers so that has been an influence on the colours and style of his art to a degree.
Mulga
likes to draw things like crazy bearded characters and brightly coloured animals. The gorilla and lion are a couple of Mulga's favourite creatures 'as they have wondrous beards and are both supremely powerful and majestic creatures.' He likes to think his work is best described as 'fresh'; 'freshness is something that I strive for in each piece I create.'  
He is also incredibly clever with words, creating poems that sit alongside his art, adding even more depth and intrigue to his already engaging work.
Mulga
has been influenced by many modern artists' and is drawn to styles that involve bright colours and beautiful black line work. 'Developing a style that is your own is one of the hardest things about starting out as an artist and one of the most important things as that defines who you are as an artist.' One of his favourite artists right now are two German brothers called '
Low Bros
', they paint geometrical looking animal characters and is attracted to their style and subject matter.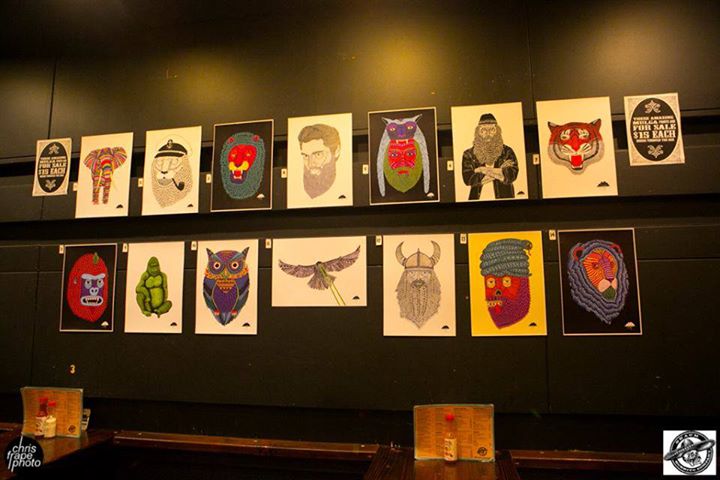 2013 was a successful year for Mulga as he won well respected Australian art awards and teamed up with some fantastic companies. He has big plans for the new year including expanding the
Mulga
clothing label, continuing his involvement in Sydney's art region as well as curating a monthly live art event called
Street Fest Food Trucks Unite
.
Mulga
's POSCA tip for aspiring artists that use POSCA markers is to give the POSCA a good shaking and poke the nib up and down to get the paint flowing nicely and the keep drawing and then draw some more.
For more details about Mulga and to see his unique style of artwork, visit www.mulgatheartist.com.au